Is Big Ganja The Next Big Pharma?
2016 brought the demise of Bowie, the rise of the alt-right and the surprise election of a Cheeto as President of the United States.
The 420 front was one of few sectors growing by leaps and bounds. Last year may have been the biggest ever for marijuana reform, with three additional states giving the nod to medical pot and four to recreational use.
Cannabis research firm The ArcView Group predicts a staggering $22 billion in legal marijuana sales by 2020. Unwilling to let grass grow under their feet, tech giants are prepared to spend big for a place in the race to become the Google of cannabis.
Marijuana and tech conspired in a big way in 2016. Microsoft and Oracle Corporation backed seed-to-sale software helping medical cannabis companies transact in compliance with regulations.
However, the year's fresh crop of cannabis hardware is the real talking point; 2016 introduced marijuana tech products of a novel strain. These innovations expertly blur boundaries between medical technology and consumer goods. One such gadget is LEAF, an automated home growing system managed via smartphone app.
"I've been using [medical cannabis] since I got out of the [Israeli] military in 2010," says LEAF CEO Yoni Ofir. His Colorado-based company offers plug 'n plant technology that automates every conceivable factor in the growing process, such as nutrition, temperature and humidity regulation. "You can use data and sensors to make everything accurate and increase the chance of a great crop," says Ofir.
With LEAF on their side, medical marijuana patients and recreational users alike can grow their own cannabis with minimal physical input. "It's basically a medical-grade lab," says Ofir. Besides helping stoners get the best from their bud, LEAF could be a lifeline for patients with chronic illnesses and disabilities. Conserving time, money and effort makes it much simpler to maintain treatment plans.
From an aesthetic perspective, LEAF's sleek device would look perfectly at home in an Apple store. "Design leads everything that we do at our company," says Ofir. "It should be important for any upcoming marijuana tech company."
The past year's other marijuana tech innovations mirror LEAF's preoccupation with both automation and aesthetics. Tel Aviv-based Syqe (pronounced 'Psyche') Medical's pocket-sized cannabis inhaler delivers precision dosing through preloaded cartridges. The device's current incarnation features chic white casing reminiscent of a Fujifilm Instax camera.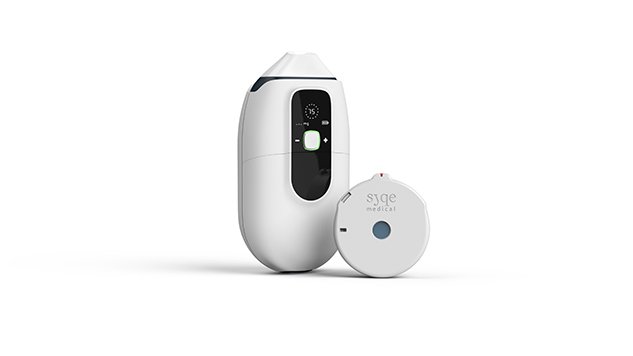 Photo courtesy of Syqe Medical
LEAF's hefty price tag makes it near inaccessible to those who could benefit most from automated growing. The LEAF system itself will set consumers back a cool $2,990. Filters and nutrient packs required for a single grow cost $39 a pop. Once launched in the U.S., Syqe's inhaler could also come at a similarly high buying cost with comparable long-term maintenance expenses.
Even though it's usually cheaper than recreational pot, medical marijuana still isn't cheap, and can cost around $40 for an eighth of an ounce, according to a user generated data bank called PriceOfWeed.com that's on the low end of the spectrum. Investing in LEAF would certainly cut costs in the long run, it's simply a case of spending money now to save money in the future. Investment buys are out of reach for many patients prescribed medicinal Mary Jane, whether we're talking about a medical device or a Rolex.
If cannabis tech becomes user experience-focused at the expense of accessibility, essential innovations could be limited to the recreational market. Marijuana tech companies are ultimately profit-driven businesses, but there's plenty that can be done on both company practice and federal policy levels.
"With technology, the more units being sold, the cheaper the price," says Ofir. "Medical users have a lot to gain, because it just happens to be the same plant that the recreational users want." However, companies have more socially responsible options available than developing a device and letting the free market decide its accessibility.
Price breaks from marijuana tech companies could offer a practical solution to increased accessibility. Several New Jersey dispensaries offer discounts to low-income patients, military veterans, senior citizens and minors. If cannabis companies applied this approach to their retail policy, medical users could have increased access to vital treatment tools without compromising on profitability.
In contrast with the inaccessibility of some medical marijuana hardware, accessible advances can and do exist in the realm of software. Releaf, a free app for Android and iOS helps patients manage cannabis dosing and gather treatment data for doctors. This sleek, intuitive app holds a five-star average rating across platforms.
Although currently unmonetized, Releaf offers ample opportunity for future monetization models such as in-app purchases and sponsorships. The only limit is developer Automata Studios' creativity.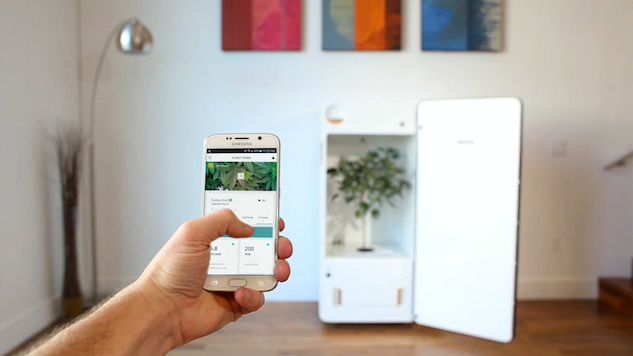 Photo courtesy of LEAF
A major shift in federal policy is also key to ensure widespread marijuana tech accessibility for medical users. The Controlled Substances Act classifies cannabis as a Schedule I drug without medicinal value, although policy at state levels often differs. Health insurance companies, whether funded privately or via social welfare programs, steer clear of this murky territory to the detriment of patients.
Medical marijuana patients are almost always forced to pay out of pocket for prescribed expenses. Marijuana Policy Project state policies director Karen O'Keefe blames bureaucratic obstacles for this lack of assistance. "In our experience, the vast majority of health insurance companies have not been willing to cover medical marijuana," says O'Keefe. "Most or all medical marijuana laws explicitly say [insurance companies] are not required to cover the costs of medical cannabis."
Without policy reform to facilitate coverage, technological bells and whistles like LEAF will remain inaccessible to those who could benefit from them most. "The passage of the CARERS Act, which would change federal law to formally recognize state medical marijuana programs, or the outright de-scheduling of marijuana are the most important," says O'Keefe.
It's too soon to tell what the incoming Trump administration could mean for medical marijuana policy. However, cannabis tech companies certainly hold sway in ensuring more immediate access to innovations for medical users. Rather than relying on trickle-down of treatment tools via recreational consumers, targeted price breaks and placing pressure on insurance providers could make the world of difference for patients without tarnishing turnover.