Heat from Wastewater: A Very Green Investment Opportunity
– Momentum Public Relations –
---
The recent COP21 summit in Paris featured a variety of strong messages from various

world leaders related to the need for a reduction of greenhouse gas emissions.  There are a variety of nuances in their statements however their overall message can be summed up by the following statement; the status quo is not an option.  Every country needs to change its approach to energy and lower Co2 emissions. Canada's Prime Minister Justin Trudeau's speech at the summit highlighted his commitment to make Canada a global leader when it comes to reducing carbon emissions. The Liberals provided a very large figure to show its dedication to the cause and have pledged to spend an extra $5.65 billion over the next four years on green infrastructure. The Prime Minister later discussed the importance of implementing some form of carbon pricing at an event held by the World Bank where he explained carbon pricing as "a crucial tool to begin the shift we need towards sustainable economic growth."
Technological advances can contribute to meaningful reductions in energy use and emissions.  Many new technologies are complex and have questionable return on investment metrics.  Wise investors must evaluate how technological advances can translate into investment opportunities.  There are numerous examples of good ideas that don't translate into good investments.  However, it is reasonable to wonder when the time is right to invest in an emerging idea or business.  Is there merit in waiting to assess the ultimate commercial viability of a technology before making a significant investment commitment?
Many solutions to today's energy challenges are simple and right in front of us.  Investing in emerging technologies comes with inherent risks however it can be helpful to test any potential investment by using four investment evaluation principles that evaluate the potential of an opportunity.  One such opportunity is International Wastewater Systems (IWS:CSE) and their SHARC technology.
Four Investment Evaluation Principles:
1.Is it simple?
2.Is the business model viable?
3.Is the potential large enough?
4.Is it disruptive?
 Is it simple?
Investment opportunities need to be understandable.  A complicated story around a technology often makes the product or service harder to explain to an investor. If an investor doesn't understand it a customer won't either. Consequently, simplicity matters . Sometimes investment in innovation is not about spending mill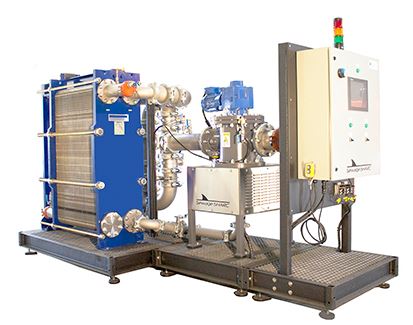 ions in research.  Often, major investment opportunities are found by discovering companies that are developing innovative ways to use existing technologies.
In almost every home and building large quantities of heat in water is discarded.  Typically, water enters buildings at 7-9 degrees Celsius and leaves into the sewer system at 20-25 degrees Celsius. The IWS SHARC solution extracts heat from waste water and captures it in a closed system allowing it to be reused. When captured, this wasted heat is used to meet as much as 50% of a building's energy requirements. This allows the warmth from waste water to be captured and transferred to clean water with no risk of cross-contamination.  Even though the technology is complex, the solution is simple and the benefit is easily understood.
Is the potential large enough?
Investment in a technology with a narrow base of potential customers is often risky.  An emerging technology needs to have a broad potential market in order to grow quickly and produce a reasonable return. Flexible and scalable technologies present more viable commercial opportunities with better ROI.
International Wastewater Systems SHARC solution has proven effective in buildings and installations that are as small as 60,000 square feet and as large as several million square feet.  Virtually any building is a potential user of this product.  Depending on the scope of the installation, the payback from recycling wasted energy averages 3-5 years making it more attractive than new installations of solar or wind energy.  Capturing wasted heat is more cost effective than installing new methods of energy generation.  In addition, the technology works in new facilities or may be retrofitted in existing buildings.  This means that the market potential is huge.  Not surprisingly, the SHARC solution is being deployed in places as diverse as Camden County, New Jersey, Seven35 Condominium complex in Vancouver, Canada and Borders College in the southeast of Scotland.

Is it disruptive?
Investment opportunities in new or emerging technologies usually need to disrupt a market or change an existing paradigm in order for an investor to be motivated to take a position early in the company's growth cycle.  A disruptive technology displaces an established way of doing things.  It may also shake up an existing  industry or become a component in a completely new industry.
The fundamental concept of a major change to how wasted energy in waste water is captured and reused is highly disruptive.The SHARC system that has been developed by IWS is changing the way that building owners and government stakeholders view energy conservation.  Yet it uses well proven technology that is designed to be trouble free with full backup capacity providing for zero down time.  Furthermore its flexibility is also a disruptive force.  It can be tailored to almost any size facility and functions in either heat exchange or heat pump applications. It even measures its own ROI.  A typical installation includes a DDC or BACnet interface and a wireless or Ethernet connection for data retrieval and instantaneous calculation of COP and GHG savings.
Is the business model viable?
Investment opportunities need to consist of much more than a great idea or an incredibly innovative product.  They require finely tuned management expertise and a sound business model coupled with a clear value proposition. 
Lynn Mueller, President and CEO of International Wastewater Systems, was previously President of Water Furnace and Earth Source Energy, the world's largest installer of heat pumps.  He has assembled an experienced team of people who have significant expertise in the geothermal heat pump and renewable energy industries. IWS created the SHARC system as a response to a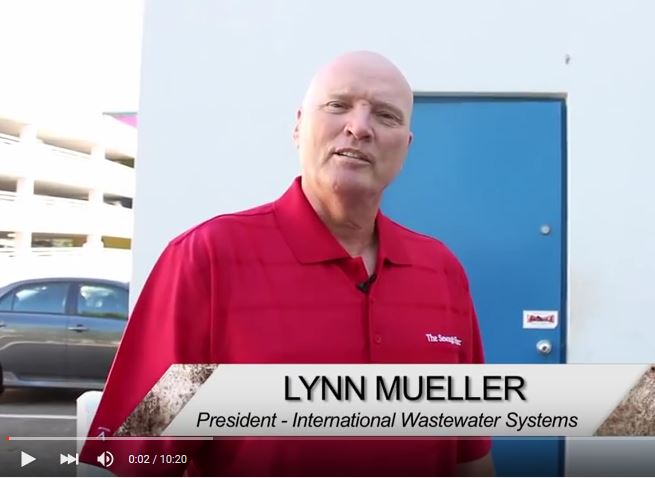 clear need for an easy, maintenance-free solution to address the need for energy efficiency.  They did it using their expertise in geothermal heat pumps and chillers.
The company has continued to ramp up its order book in 2015 with significant revenue growth in its pipeline.  IWS has also established marketing and distribution channels in 40 US states and in Canada. A recent IWS press release highlights the major upcoming projects: CORPORATE UPDATE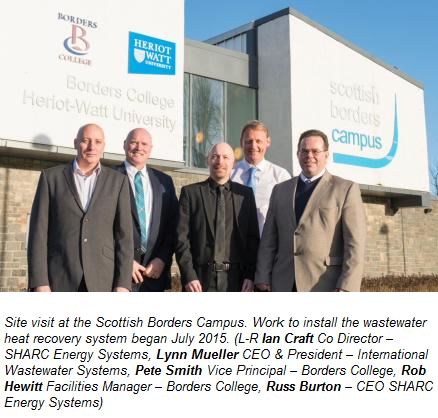 Additionally, it has been supported financially by leading institutional green energy investors.  Recently, IWS's fully owned UK based subsidiary (SHARCenergy.com) secured a £4 million investment from Equitix and the UK Green Investment Bank plc (GIB) to finance the installation of what will be the first major system in a new program that could see sewage heat recovery systems installed across the UK.
Today: (the 8th of December, 2015)
The UK's Energy Minister, Fergus Ewing will help with the official unveiling and launch of the SHARC system that will provide 95% of heat needed at the Borders College campus.
All are welcome to attend and take one of the scheduled tours, but more notably, some of the World's largest greentech / renewable energy funds will be attending the inauguration of UK's first SHARC energy system.
IWS.C has only been available to investors as a publically listed company for a little over a month, which makes this early stage opportunity's upside potential all the more rewarding. Things can move quickly, the public, through increasing media exposure, is starting to understand the direction and huge potential that IWS represents. Potential clearly highlighted in a recent interview with International Wastewater Systems UK division's CEO, Russell Burton. Mr.Burton, "founder and chief executive of Leicester-based SHARC Energy Systems said the firm's turnover would jump from about £3 million to about £60 million in the next three to five years."
Conclusion:
Sewage isn't as inherently attractive as solar or wind power but the SHARC system represents an accessible, cost-effective renewable energy system that is fully commercialized.
The consensus that is emerging at conferences like the COP21 summit in Paris supports the need for simple, cost effective and easy to implement technologies that will radically change the trajectory of the climate change reality.  The future of our planet may depend upon the extent to which countries and stakeholders collaborate in the effort to reduce Co2 emissions.  Energy users like municipalities and building owners are increasingly being challenged to efficiently decrease their greenhouse gas emissions. Investors need to pay attention.  Challenges like this generate major investment opportunities. Ultimately, a company like IWS provides investors with an opportunity for significant return in a market space that is going to be an important dimension of the emerging economy.